Greetings from the beer festival organisers. The afternoon session on Saturday the 9th is now full and no further ticket requests can be accepted. Sorry. Tickets are still available for all of the other sessions.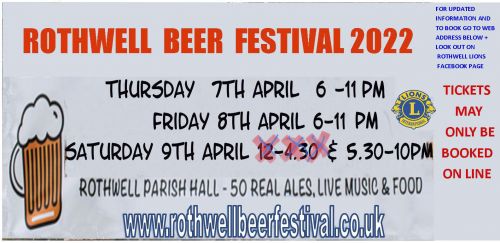 ROTHWELL BEER FESTIVAL 2022
Following our cancelling the festival last year we are proud to announce that the Rothwell Beer Festival will once again be taking place this April.
Please see website below for all the details you need to know about when its taking place place and how to apply for your tickets.
www.rothwellbeerfestival.co.uk
This year for the first time we must closely control the numbers of people in the hall for each session so we are doing two things.
We are asking people to book their tickets on line in advance saying which session they wish to attend but we are also putting on an extra session on the Thursday evening so that we can allow as many people as possible to try the fabulous different ales that we will have on sale.
Keep an eye out here and on our Facebook page for all details and updates